WhiteCoat Clipboard® - Care & Communication Edition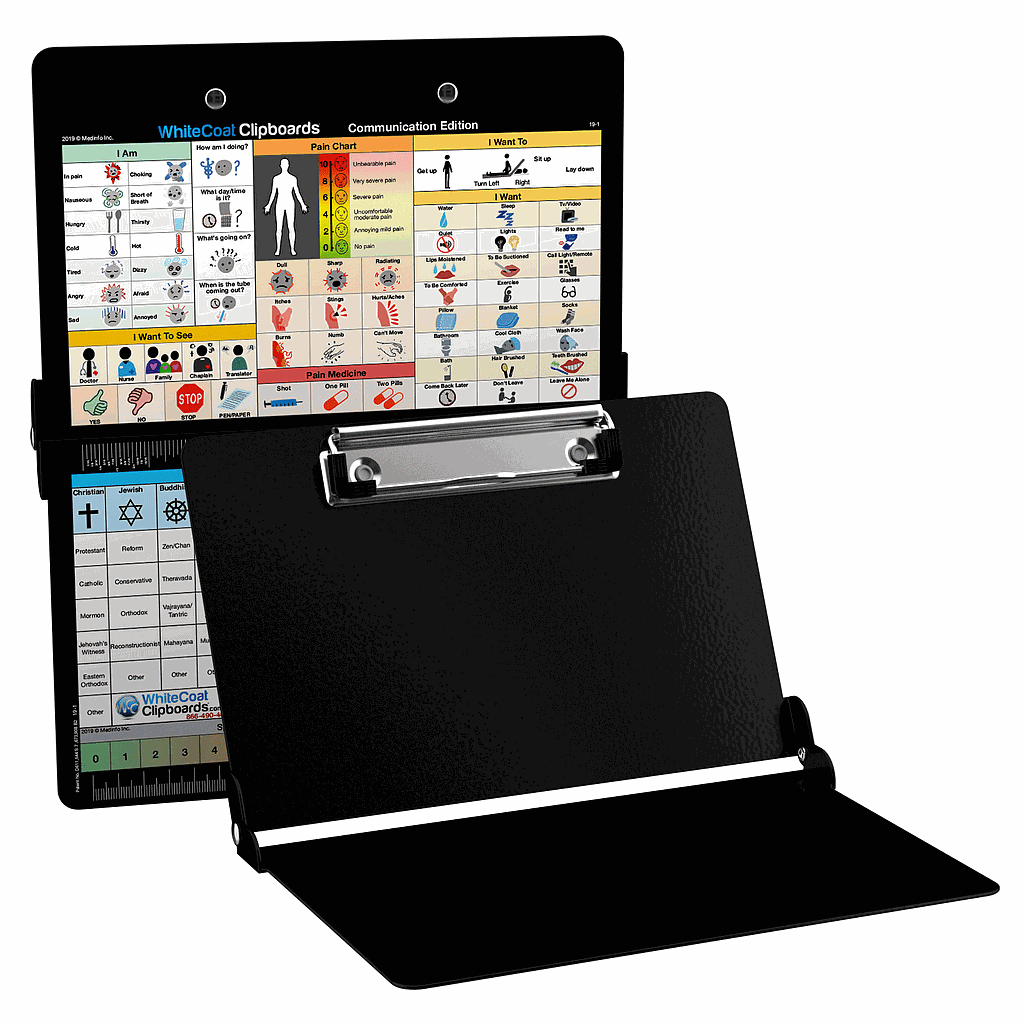 WhiteCoat Clipboard® - Care & Communication Edition
WhiteCoat Clipboard - Black - Care & Communication Edition
Our WhiteCoat Clipboard® Care & Communication edition contains easy to read charts and tables for patients, clients or students that need help communicating. Tables include images to convey wants, feelings, requests, religious identity, and a graduated pain chart complete with body diagram and sensation table. This full size folding clipboard is made of lightweight aluminum and can carry up to 30 pieces of paper without a crease, securing all your medical information. Store assessment forms, notes, patient information, and all your documentation on this communication clipboard. Hover over the images to see the specific information on this WhiteCoat Clipboard®. 
---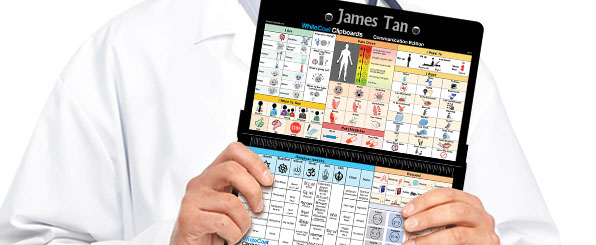 Features:
Full size medical clipboard that folds in half
Lightweight aluminum construction
Holds 8.5" x 11" inch paper - letter or an 8" x 5" inch notepad
Folds in half with ease to 1/2 inch
Holds 15-30 pieces of paper without creasing
Clip to secure all your documents
Hover over the images above to see a detailed view of medical information
---
Options and Accessories:
Upgrade your Metal Durability:
Increase your clipboard's durability by upgrading to High Grade aluminum to make your clipboard 20% stronger! Choose between 'Standard' and 'High' grade aluminum in the option section. Upgrade yours today! 

Engrave your clipboard:
Personalize your clipboard by adding an engraving in any of our 3 fonts. Engravings are lasered between the rivets on the top rear of the clipboard.


WhiteCoat Pen Clip:
Get a pen clip designed for your WhiteCoat Clipboard. This clip will fit above the paper clip without covering your engraving. Purchase a pen clip and get one of our pens! Click here to see full details.

WhiteCoat Clipboard Band:
The WhiteCoat Band is our exclusive elastic rubber band to secure all your documents and prevent flaring on our folding WhiteCoat Clipboard. Use this band with any of our clipboards to help secure and protect your vital notes, patient documentation, or simply to hold down any paper within your clipboard. Click here to see full details.


Custom fitted notepads:
Our 8x5 notepads fit the WhiteCoat clipboard perfectly with removable sheets that don't interfere with the foldability of the clipboard! Click here to see full details.



---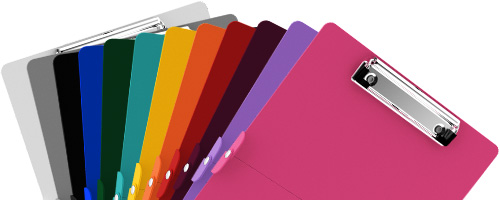 Clipboard

Flat Size

8.75" W x 11.5" H

Color

Black

Weight

0.9 lbs

Unfolded Capacity

100 sheets - letter

Folded Size

5.75" L x 8.75" W x 0.5" H

Recommended Max Folding Capacity

30 sheets - letter

Preferred Paper Size

8.5" W x 11" H - Letter
Label Contents

Label Information

Care & Communication

Pain Scale

Request Chart

Want/Need Table

Feelings Inventory

Religious Identity